Submitted by

acarson

on Tue, 05/01/2018 - 3:25pm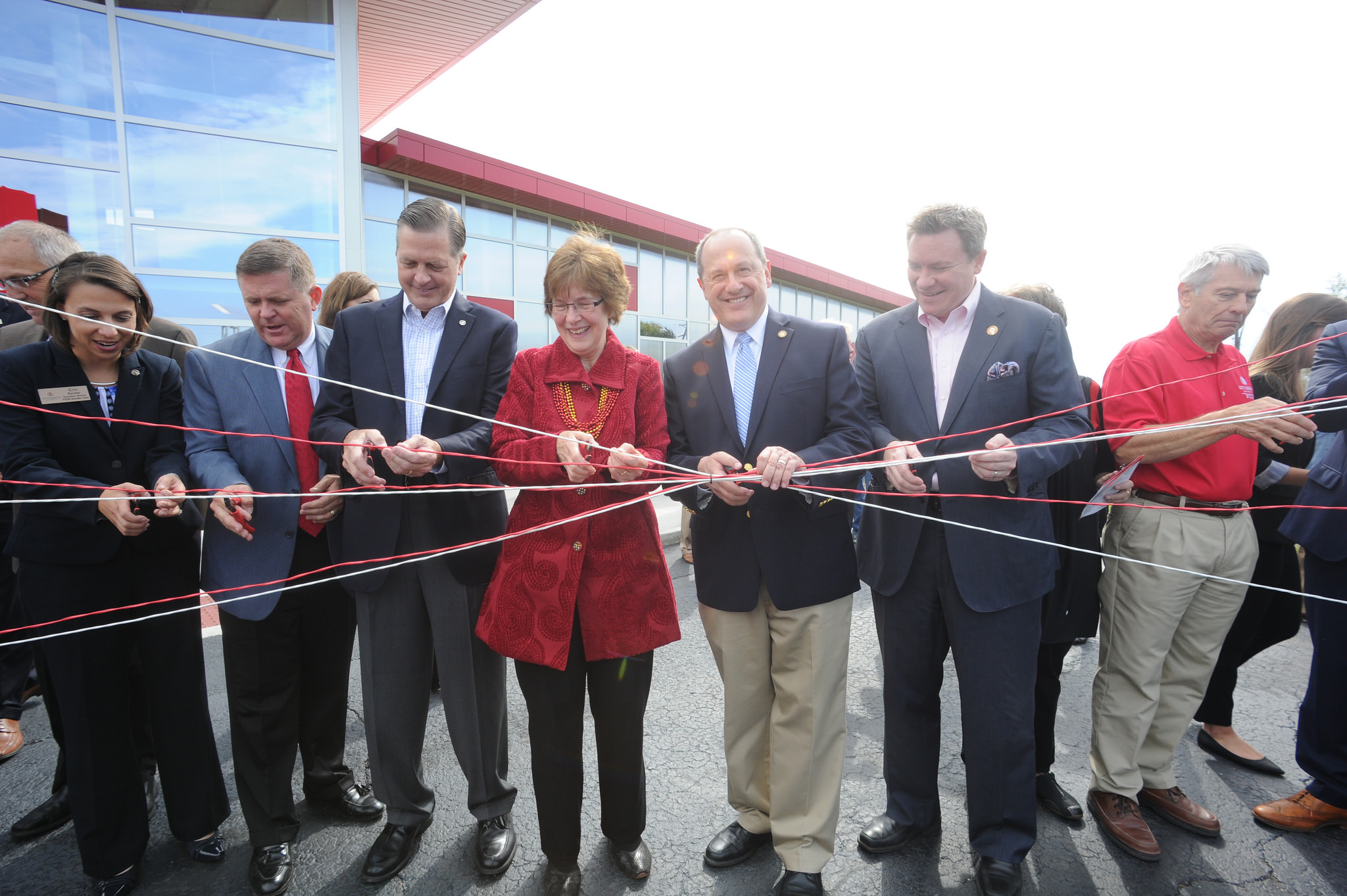 In a buzzing classroom of wood-top tables, groups of engineering students huddle around the instruments they've created. They adjust knobs, trim wires and even paint a spectrum of colors across 3D-printed fretboards and sound boxes. They need to win the bid for their clients – music students in another class. This collaboration is possible because of Otterbein University's Science, Technology, Engineering, Arts, and Math (STEAM) Innovation Center – housed at a new high-tech facility called The Point.
The Point is a nucleus for innovation, creating an "entrepreneurial ecosystem" at Otterbein and in the city of Westerville, a suburb of Columbus. The unique facility hosts industry clients, community organizations, and Otterbein students under one roof, encouraging collaborative projects and start-ups that benefit everyone from Boy Scout troops to Fortune 500 companies.
With all this innovation comes technology, and with technology comes the demand for high-speed internet. Luckily, most of the internet usage at The Point is provided by OARnet. Thanks to Otterbein's previous connections to the 100 Gbps network, providing connectivity to the center, which opened in August of 2016, was a cinch.
"Ninety-eight percent of the facility's network traffic is going through OARnet," said Dave Bender, executive director of information and technology services at Otterbein. "The Point's network is fiber connected to Westerville's WeConnect data center a few blocks away, where Otterbein houses its virtual environment. Otterbein's equipment is directly connected to OARnet's protected ring just a few racks away. OARnet has provided high-speed, reliable access for our community with an impressive 100 percent uptime over the last four years."
While only about one-third of the facility is complete, the available space is being put to good use. The Point includes state-of-the-art classrooms, a woodworking shop, metal shop, commercial-grade 3D printers, machine shop, and electronics shop. While mostly used by Otterbein students and the industrial tenants in the building, community members can access any of these "maker" spaces by paying a $75-per-month membership fee.
STEAM students not only receive classroom and hands-on instructional time at The Point, but, as executive director Erin Bender pointed out, they also benefit from the industrial tenants. In turn, these clients work with bright minds at a reduced labor cost.
"As a requirement of the lease, (tenants) are obligated to provide some type of student experience," Bender said. "You actually have to engage in the culture. And they can do that in lots of ways – it can be internships, co-op projects, capstone, it can be just a one-on-one engagement. Really, they can be creative in how they fulfill the student experience, but it is a requirement."
The facility is slated to be complete by June 2018, with new additions including a 125-person event space, an outdoor learning laboratory (the facility sits just in front of Otterbein Lake and Alum Creek), a catering kitchen, and a student lounge area. The flexible facility allows a wide variety of student populations to engage in the high-tech offerings at The Point.
"The great thing about the flexibility of this space is that, as the tenants change, we can change the student population," Bender said. "So I can work with the registrar and say, 'Hey, we're having a healthcare company come in. I need as many nursing and health and sport science students have their classes in here as possible. So let's work with the faculty to have their classes scheduled down here so they get that engagement.'"