Submitted by

acarson

on Wed, 01/13/2016 - 10:29am

The Ohio Department of Transportation recently switched over the majority of its sites to the OARnet backbone, connecting over 120 department garages and offices to the 100-gigabit-per-second network. As one of the pioneer state departments to connect to OARnet, ODOT is providing improved service to citizens and its employees thanks to a high-speed, reliable broadband network that will be saving the department over $425,000 annually once all sites have been switched over.
Each ODOT county garage is now on a minimum 10 Mbps circuit, a significant upgrade from the T1 1.5 Mbps circuits on which the department previously operated. The nearly tenfold upgrade in speed helped the department significantly cut costs thanks to aggregate purchasing power.
"The price changes we negotiated with the telecommunication service providers were huge," said Jack Taylor, network architect for Ohio DAS, formerly network and security manager for ODOT. "We were able to get 10 Mbps Ethernet circuits for $100 less per month than we were currently paying for a T1 circuit. This was accomplished by handing off Ethernet circuits to one of the OARnet POPs located throughout Ohio and letting OARnet backhaul it to our data center in Columbus. Previously, we would have to pay the telco additional monthly charges to do this on top of the base circuit cost. "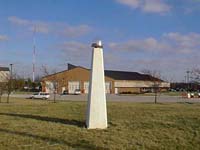 Those connections are speeding along department upgrades as counties install WiFi-enabled security and traffic cameras that are backhauled to the central office.
With over 600 cameras on the network, the need for speed and reliability is undeniable. ODOT has also installed a new fuel management system for its department vehicles. Previously, employees would have to physically fill out paper forms each time they refueled a vehicle at county garages. Now, a department employee can scan his or her badge at the pump and when the vehicle enters the pump's wireless range, the mileage data is automatically recorded.
ODOT's employees aren't the only ones benefitting from the network upgrades. Many Ohio farmers use ODOT's Continuously Operating Reference Stations, or CORS, network to operate agricultural vehicles and plan their planting for the season. The CORS network provides three-dimensional positioning, meteorology, weather and geophysical information at over 50 stations throughout Ohio. The CORS application is free to farmers and runs wirelessly.
Outside of agriculture, the public takes advantage of ODOT's road weather information systems. These are positioned along highways, sending information about road conditions, wind temperature and precipitation to the ODOT website, providing an accurate look so citizens can be informed for safe travel.
"OARnet makes things a lot easier by only having a single headend handoff instead of one from each telco provider," Taylor said. "I would definitely recommend using them because of this, built in redundancy and the cost savings."