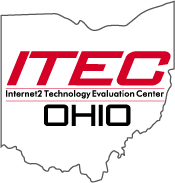 ITEC-Ohio (Internet2 Technology Evaluation Center) is a consortium of Ohio universities, government agencies, and corporate partners whose purpose is to examine critical new applications, infrastructure problems and emerging technologies in order to meet future academic, engineering and industrial needs in research, education, government and commerce. ITEC-Ohio was created in December 1999 by UCAID (University Corporation for Advanced Internet Development) and is chartered by Internet2 to serve as a national network-testing laboratory for the Internet2 community. ITEC-Ohio is one of only two ITEC testing laboratories in the United States. The other ITEC facility is located in North Carolina.
More...
Featured Partner
Polycom
Founded in 1990, Polycom is the only company today delivering end-to-end rich media collaborative applications for voice, video, data and the web from desktop and

mobile personal systems to room systems to the network core. Our vision is to enable people to connect anytime, anyplace and with any device in a virtual experience as natural as being there.
Visit the Polycom website.