Appalachian Ohio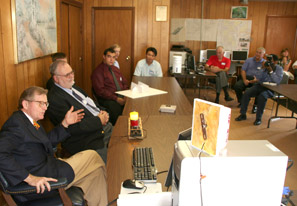 The Connecting Appalachia Broadband Plan leverages an Ohio telemedicine network to expand broadband Internet connectivity throughout 32 Appalachian counties in southern and eastern Ohio. The project, led by Ohio Congressman Zack Space, is a collaborative effort of the Southern Ohio Healthcare Network (SOHCN), the Governor's Office of Appalachia, OARnet, Connect Ohio, OneCommunity, Ohio's Office of Information Technology, the Ohio Board of Regents, various local and regional organizations and service providers to develop a regional solutions to some of the most unserved and underserved areas of the state.
For more information please visit: http://space.house.gov/?sectionid=20&sectiontree=8,20&itemid=549.
Dublin
DubLINK, Dublin's existing system of nearly 100 miles of underground fiber-optic conduits, provides high-speed voice, data and video communications to businesses. The network saves corporations time and money by providing an existing "telecommunications pathway" within the City's business district on which businesses can lease space rather than construct their own lines.
For more information please visit: http://www.dublin.oh.us/econdev/dublink.php.
Central Ohio
The City of Dublin established the Central Ohio Research Network – or CORN – provides the area with a dedicated research network that enable businesses, government and schools to connect directly to OARnet and institutions of higher learning and research statewide. The network also enables interconnectivity between facilities located on the fiber route. For example, Battelle's Dublin location established connectivity with its headquarters on King Avenue near The Ohio State University.
For more information please visit: http://www.oar.net/press/2005/corn.shtml.
New Albany
The Village of New Albany constructed a multi-duct fiber optic network.  New Albany Net is a redundant robust network that contains 96 strands of dark fiber.  The network can link companies to university and researchers throughout the world to advance research and development.
For more information please visit: http://www.villageofnewalbany.org/economic-development/index.aspx?id=216.
Tuscarawas County
The Tuscarawas County Community Improvement Corporation's strives to make technology available to existing companies, to nurture the technology-based businesses we already have and to attract more such companies. The number one requirement of technology-based businesses is access to a world-class communications infrastructure. The CIC's technology initiative includes not only state-of- the-art local data networks, but also access to the national "pipes."
For more information please visit: http://www.tusccic.com/tech/initiatives.asp.
Gahanna
The City of Gahanna is helping to lead the charge in technology developments by implementing plans to develop one of central Ohio's most fiber rich communities. With help from both the private and public sectors, Gahanna is developing high levels of fiber optic networks throughout the city. This new infrastructure will serve many major needs of the city and allow Gahanna to be competitive in the telecommunications market. By offering more consumer choices and quality network access to technology driven industries, Gahanna is acting as the catalyst for local development.
For more information please visit: http://www.gahanna.gov/departments/development/tide.asp.