OARnet strives to provide exceptional service as part of its member benefits and to develop shared programs that reduce hte cost of technology through aggregate purchasing. This shared-services approach reduces the cost of service delivery by centralizing the technology hardware, software and networking required to support the overall community. 
Dedicated Internet Access
OARnet's dedicated internet access supports redundancy and flexible route views with static routing and border gateway patrol (BGP). This supports both IPv4 and IPv6.
Commodity

OARnet has multiple transit carriers because of diversity, capacity and resiliency.  
Peering contributes to providing low cost service. OARnet provides connectivity to public internet exchange points to optimize internet costs while maintaining the highest standard of reliability.
OARnet's tier rate structure reduces internet rates and aligns user tiers with current usage and demand.

On-Net

Traffic that remains "on-net" can be provided to customers at lower cost.

Content

OARnet provides a shared subscription service offering content services such as movie streaming at $1 per megabit, resulting in savings between 50 to 84 percent per Mb from the previous year.
Access
OARnet supports an array of connectivity options through last mile carriers and dedicated fiber infrastructure.
Domain Name Service
OARnet has a high-capacity, geographically diverse primary and secondary IPv4 and IPv6 DNS service.
Time Protocol (NTP)
Geographically diverse stratum one-time sources synced to GPS and the cellular network.
Transport
OARnet provides dedicated Layer2 point-to-point and custom Layer3 VPN mutli-point services to realize custom private networking solutions for customers, utilizing OARnet MLPS network.
Research Network Connections
OARnet peers with national research networks such as Internet2, NASA and DREN.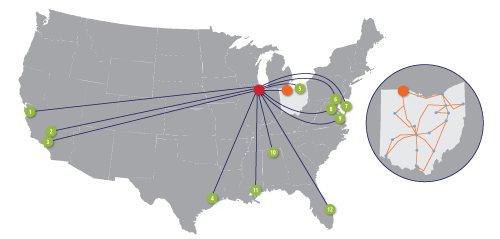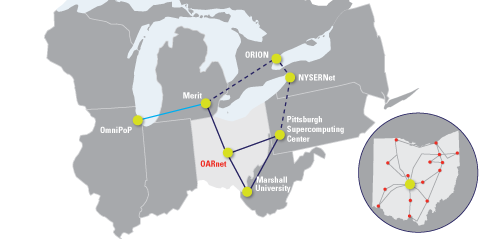 Redundant 100 g connections to I2
10g redundant connections to DREN
Emergency Web Hosting
During a crisis, your Web site becomes a nexus for information. With OARnet's Emergency Web Hosting Service, you will always have a Web site available, even if your network is adversely affected by fire, weather or construction mishaps, or your campus server goes down from sharp increases in traffic.
Details
OARnet stores and deploys a basic campus web presence on a remote web server in the event that normal web operations are disrupted.
A dedicated web server hosts the 24x7 service. Located in the State of Ohio Computer Center, the server resides on OARnet's network backbone.
One gigabyte of server storage is available per agreement.
QoS
OARnet provides differentiated services to support critical applications such as Video conferencing VOIP, and emergency services.