Interface and Applications Director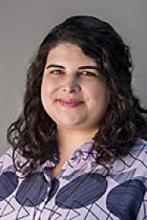 Originally serving as the e-services coordinator for OARnet, Rebecca quickly became the organization's network and graphic designer. In this senior role, she designed and developed web tools and databases for staff and clients and developed informational pieces that appealed to both a technical and non-technical audience, among other responsibilities.
Currently, Rebecca is the interface and applications manager for OARnet. In this role she manages interface design and development for OARnet's internal and client-facing web tools, manages interface designer and programmer staff, drives engineering visual language and data visualization, and works with communication design.