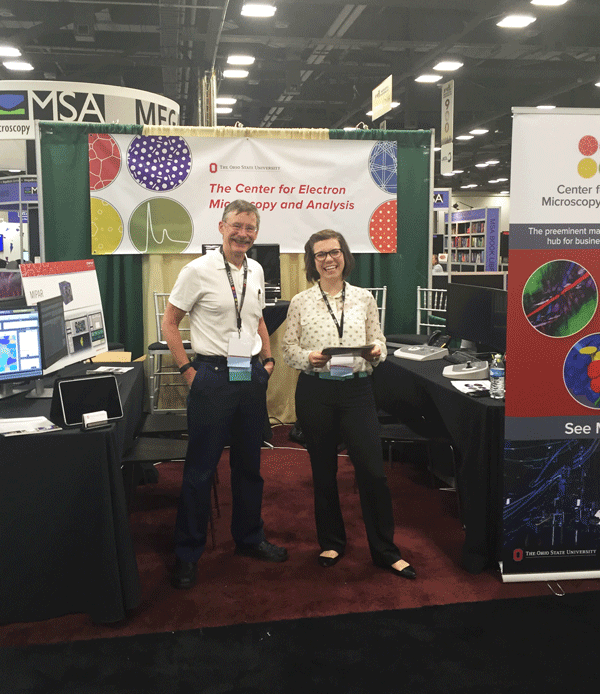 For a microscopy center, the chance to show 2,000 visiting researchers and microscopists the cutting-edge capabilities one offers is too important to hit any snags. So when the 2016 Microscopy & Microanalysis meeting came to Columbus, Ohio, The Ohio State University's Center for Electron Microscopy and Analysis (CEMAS) turned to OARnet to help exhibit its local and, more importantly, remote microscopy capabilities.
Since the possibility of moving $9 million worth of microscopy equipment to the Greater Columbus Convention Center did not exist, staff members at CEMAS collaborated with OARnet to establish a lightning-fast remote connection from their trade show booth to the main facility on west campus.
"People have done similar demonstrations at other trade shows and other convention centers, but it has required a tremendous amount of work and, in a lot of cases, a huge expense to pull fiber-optic cables across the city and make last-mile connections," said Daniel Huber, CEMAS research engineer. "Essentially, I (contacted OARnet) and pretty much everything just happened." 
OARnet has extensive connections across the state, including throughout the city of Columbus. A connection to the convention center had been set up for a previous event. To meet the needs of CEMAS, the connection was reactivated. The only expense for CEMAS was a small fee to set up a dedicated virtual local area network inside the convention center for the booth.
"The city of Columbus and OARnet have a great, long-standing relationship," said Dana Rogers, OARnet business relations manager. "When approached about the temporary re-connect, the city assisted and was very generous in allowing OARnet use of its connection at the convention center for CEMAS. This type of effort really shows collaboration at its best and brings positive attention to Ohio."
For CEMAS, a successful remote microscopy demonstration may have been even more beneficial than having the actual microscope present at the convention center, as one of its featured services is the ability for researchers across the country to operate the microscopes remotely. The center leverages OARnet connectivity on a daily basis for this ability.
Founded in 2013, the state-of-the-art center features two of the world's most powerful, commercially available electron microscopes, optimized to perform analysis on the atomic scale. Isabel Boona, CEMAS research associate and communications officer, said these are a rare commodity.
"A lot of industries do not have or do not want to pay the overhead that is required to have these instruments," Boona said. "I think showing the capability of the remote station shows them, 'Yes, we can do it,' we have this high-quality connection, and I think it also proves that there are no delays."
While remote microscopy is not a new idea, CEMAS is breaking ground in the field for its highly specialized equipment, real-time connection and its efforts in research collaboration. Huber has helped the center now include Voice-Over-IP technology that allows local users and support staff to work more closely with the remote user. Huber noted that remote microscopy has come a long way in a short time, and a good connection makes all the difference, whether it's at the CEMAS facility or on the trade show floor at the 2016 Microscopy & Microanalysis meeting.
"Previously, many people felt like remote microscopy was kind of like a toy or a parlor trick," Huber said. "When they saw the connection that we were able to provide through an efficient network connection … that made a huge impression with a lot of folks."