COLUMBUS , Ohio (

Oct 20, 2022

) —
The State of Ohio established two new Ohio Narcotics Intelligence Center (ONIC) offices in Toledo and Cincinnati this year to expand the use of computer forensics to combat drug trafficking. The Ohio Academic Resources Network (OARnet) worked with the sites to support the bandwidth needed for law enforcement to process and analyze the large volume of digital data uncovered in criminal investigations.
ONIC, a division of the Ohio Department of Public Safety, was created in 2019 through an order by Governor Mike DeWine, with initial offices located in Columbus and Cleveland. The center employs criminal intelligence analysts and forensic computer specialists to extract and examine data from cell phones and other electronic devices that are part of investigations into drug trafficking and smuggling.
As the software and tools required for such work can be cost-prohibitive for local law enforcement agencies to acquire, ONIC is filling a critical need for investigators across the state, said Cynthia Peterman, director of the program. 
Since ONIC's inception, the center has analyzed more than 200TB of data, including 6 million images, 5 million text messages and 200,000 videos.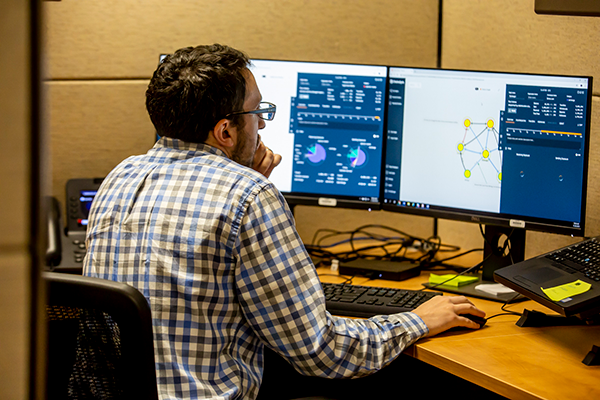 "With the growth and expansion of those two offices coming online, I expect that to quickly double," Peterman said. "And our infrastructure is critical to what we do."
Once the Ohio Department of Public Safety chose Cincinnati and Toledo sites for the program expansion, the department's information technology team reached out to telecommunications providers to secure circuits and to OARnet for network connections and support, said Cindy Dishon, IT project manager. OARnet had worked with the department previously on setting up the Cleveland site.
"OARnet was ready with the necessary equipment to bring those sites online," she said. "The technical staff want to understand our needs at the business level and understand the impact. They are invested, responsive and creative."
OARnet also assisted ONIC with troubleshooting an equipment problem that had been triggered by supply chain delays, which helped the center avoid unnecessary costs, Dishon added.
With robust connectivity in place, the ONIC offices can focus on expanding efforts to combat drug trafficking in Ohio. ONIC is adding mobile forensic units, enhancing language translation services, offering more support for violent crime investigations and providing forensic accounting, Peterman said. In collaboration with the Federal Bureau of Investigation and the U.S. Drug Enforcement Agency, the program also assists with cases that span beyond Ohio's borders, including by offering its expertise in dark web and cryptocurrency analysis.
Working closely with local, state and federal law enforcement, as well as the State of Ohio Board of Pharmacy and RecoveryOhio, ONIC is dedicated to identifying emerging drugs in Ohio and prosecuting individuals introducing them to communities, Peterman said. The program also has issued bulletins in multiple languages to the public about dangers such as an influx of counterfeit pills.
"We're working hard to try to protect citizens from these dangerous drugs," she said. "Getting the word out on emerging drugs that the public can keep an eye on is very important."
Another strength of the program is its ability to synthesize information from law enforcement entities across the state in novel ways, Peterman said. The program has helped identify patterns of drug trafficking and criminal suspect activity that no single entity may have been able to observe.
"The data help us discover criminal networks across the state," Peterman said. "Not only are we extracting evidence on behalf of a particular prosecution, but we are also retaining some of it to make connections that agencies might not otherwise know about."
In only three years, ONIC has made a major impact on the state's efforts to combat drug trafficking, Peterman said.
"We are proving ourselves to be very valuable and useful," she said. "We all knew—and Governor DeWine knew—that there was a need to assist locals in these investigations and to have these services, but I don't think anyone anticipated the volume that would be coming to us."
The ONIC project is one of many examples of how OARnet partners with Ohio government agencies to meet their connectivity needs, said Pankaj Shah, executive director of OARnet.
"Supporting local and state government entities is a critical part of OARnet's mission," Shah said. "We are pleased to work again with ONIC to help them expand their operations and impact across the state of Ohio."
By Andrea Gibson