EAST CLEVELAND, Ohio (

Apr 7, 2021

) —
Ohio Governor Mike DeWine and Lt. Governor Jon Husted announced a new broadband expansion project located in the City of East Cleveland. The pilot project launched today will connect residents to reliable, low-cost high-speed internet. 
"East Cleveland, like many other urban and rural communities, has lacked both the infrastructure and access to low-cost broadband for many residents. This new project plans to provide both the infrastructure and access for up to 2,000 families," said Governor DeWine. "All of the partners in the public-private partnership have come together to bring access to high-speed internet for families throughout East Cleveland." 
The broad public-private partnership, spurred by BroadbandOhio, includes Case Western Reserve University, Connect, Cuyahoga County, Eaton Corporation, East Cleveland City Schools, GE Lighting- a Savant company, Greater Cleveland Partnership, InnovateOhio, Microsoft, OARnet, PCs for People, University Hospitals, and the Urban League of Cleveland. 
"As soon as I learned that most families in East Cleveland didn't have access to high-speed internet, I told the InnovateOhio team we've got to fix this," said Lt. Governor Husted. "Starting today, more than 1,000 Ohio families, with many more to come, will have the opportunity to access affordable, high-speed internet – allowing students to do their homework online, parents to work online and families to be better able to participate in the modern economy, education and healthcare systems."
Governor DeWine's Remarks (Fox 8 Cleveland) | Photo Gallery (Cleveland.com)
The project will connect more than 1,000 households in its first phase, with plans to scale up access to 2,000 households. East Cleveland households will pay $15 a month for internet speeds of 50 Mbps for download and 10 Mpbs for upload (twice the minimum federal definition of high-speed internet).  
"We are excited to be involved in providing low cost, high-speed internet to the East Cleveland community," said Dr. Henry Pettiegrew, Chief Executive and Superintendent at East Cleveland City Schools. "Through this initiative, we are making progress to eliminate the digital divide for our families and community." 
The first antenna tower has been activated on the roof of Mayfair Elementary School. Additional tower sites will go live over the course of the coming months to increase service to the areas of the pilot program. 
"The generosity of so many has fueled our efforts to provide discounted computers and first-class internet to families and individuals with limited budgets," said Bryan Mauk, executive director, PCs for People. "East Cleveland families with remote learners and workers, those looking for employment, and seniors who require e-health services will now be able to access the services they need at a price they can afford."
The pilot program includes $650,000 in financial investments from BroadbandOhio, Cuyahoga County, Eaton Corporation, GE Lighting- a Savant company, Greater Cleveland Partnership, InnovateOhio, Microsoft, and PCs for People. Additional investments will be forthcoming.
"This initiative is a perfect example of state and local government, the business community and nonprofits all working together for residents to further bridge the digital divide in Cuyahoga County," said Cuyahoga County Executive Armond Budish. "Access to the internet is a necessity, and this effort is critical to our ongoing work to get as many residents as possible connected in a fair and equitable manner."
PCs for People will serve as the internet provider, and distribute antennas and modems for residents to have in their homes. Case Western Reserve University, Connect, East Cleveland City Schools, OARnet, and University Hospitals will assist with the technical infrastructure.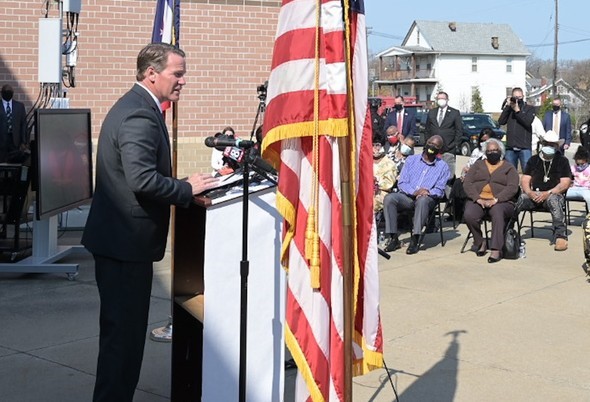 "Bringing affordable broadband to students and families in East Cleveland has the potential to transform lives," said Microsoft President Brad Smith. "This project is exactly the kind of public-private partnership we look for with our Airband Initiative, which aims to build digital equity for communities across the country."
"Our Community and all communities that have significantly underserved neighborhoods – find it challenging (if not impossible) to connect to the World through high-speed internet," said City of East Cleveland Mayor Brandon King. "Our partnership with PC for People, GE, EC Schools, and Eaton – supported by Governor DeWine and Executive Budish – will give East Cleveland residents the ability to connect to the World through reliable, low-cost broadband. This project is a great step towards addressing the digital divide in Our City and will allow residents to be better educated, informed, and ultimately prepared for life in the 21st century and beyond." 
Today's pilot program builds on the DeWine-Husted Administration's efforts to expand and enhance broadband connectivity for businesses and families throughout Ohio.
Since 1987, OARnet has delivers technology-based solutions that reduce costs, increase productivity and improve customer service. As a division of the Ohio Department of Higher Education's Ohio Technology Consortium (OH-TECH), OARnet serves Ohio's education, health care, public broadcasting and government communities. Other members of the consortium include the Ohio Supercomputer Center (OSC) and the Ohio Library and Information Network (OhioLINK).