COLUMBUS, Ohio (

Jun 24, 2022

) —
In early 2020, the DeWine-Husted Administration created BroadbandOhio to implement the Ohio Broadband Strategy, which is focused on providing high-speed internet access to the 300,000 underserved or unserved households across the state. These households, which represent about 1 million citizens, do not have the technological capabilities to support online education or work.
The Ohio Academic Resources Network (OARnet), a member of the Ohio Department of Higher Education's Ohio Technology Consortium, has been a key partner in the effort, working closely with BroadbandOhio on public-private partnerships that have extended connectivity to rural and urban communities in the state. The organization also lends its expertise to statewide planning efforts at a time when Ohio is slated to receive new federal funding that will accelerate broadband expansion.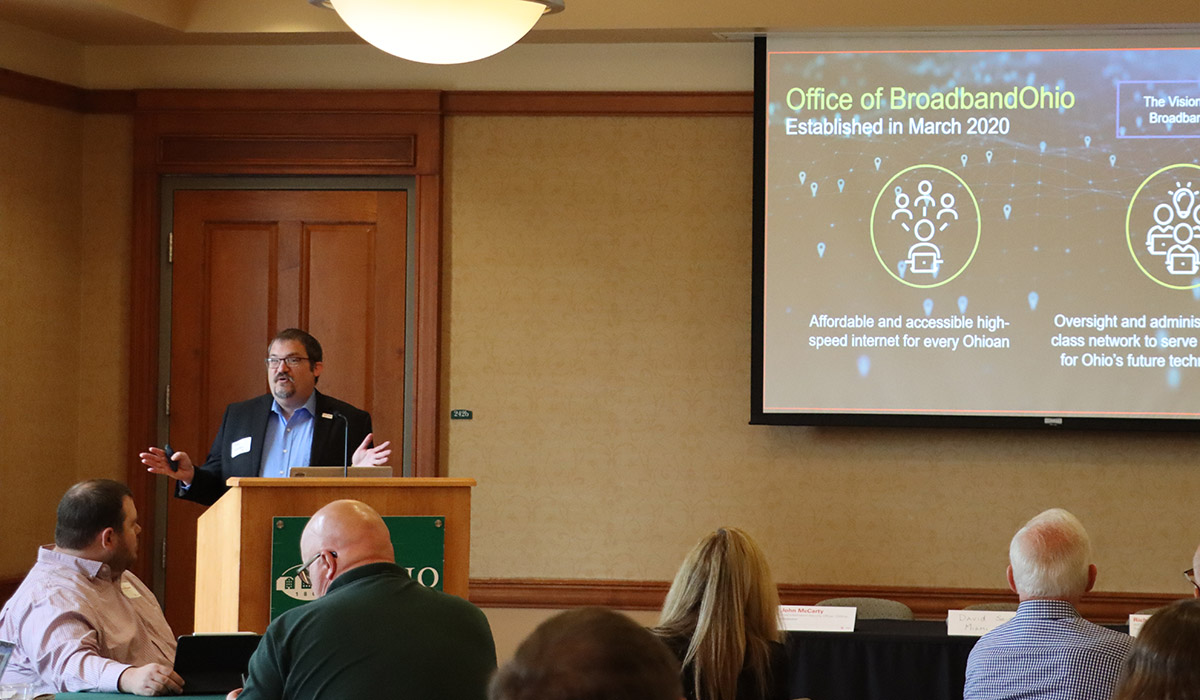 BroadbandOhio Chief Peter Voderberg addresses the OARnet Member Meeting on May 18, 2022, at Ohio University in Athens, Ohio.
OARnet has been a valuable partner in these efforts, as it offers deep technical expertise and has wide reach into many Ohio communities, said Peter Voderberg, chief of BroadbandOhio.
"OARnet has a great deal of on-the-ground awareness of various state entities, and their collaboration has been helpful from that perspective," he said.
Over the last 35 years, OARnet has been the architect of a 5,500-mile fiber optic backbone – in partnership with the private sector – that provides connectivity for K-12 and higher education, local and state governments, health care and public broadcasting entities, as well as research organizations. Ohio is one of only five states in the nation that has the infrastructure in place to expediently move forward with broadband expansion efforts, said Pankaj Shah, executive director of OARnet.
In just two years, OARnet has collaborated with BroadbandOhio and the state's InnovateOhio initiative on public-private partnerships that are providing affordable high-speed internet to thousands of Ohioans in the Riverside Local School District in rural northwestern Ohio and the City of East Cleveland. These pilot projects provide a template for how such initiatives could be implemented with other partners, Voderberg said.
Several of OARnet's clients in the areas of K-12 education, higher education and economic development now are planning such projects in their communities.
In addition, OARnet regularly participates in a BroadbandOhio working group and in strategy sessions for proposals for grant funding that the state and federal governments are making available for new broadband projects.
BroadbandOhio and its partners are also monitoring the implementation of the federal Infrastructure Investment and Jobs Act, which designated $65 billion for national improvements to broadband equity. Each state will receive at least $100 million, with more allocated depending on the level of need to address unserved or underserved populations. In addition, the act has set up a competitive $1 billion grant program for middle mile projects.
These projects will not only bolster connectivity for Ohioans but also will support digital literacy programs and consumer discounts for internet service.
In addition to these federal programs, the Ohio General Assembly passed House Bill 2 in May 2021 to create the Ohio Residential Broadband Expansion Grant Program. After a competitive proposal process in the fall, the state has awarded $232 million to 33 applications, primarily in southeast Ohio, to help internet service providers boost household connectivity over the next four years.
OARnet is in a prime position to help BroadbandOhio and its various public and private partners secure competitive funding and execute these broadband expansion projects, as it has a robust infrastructure already in place that can lower costs, Shah said. In addition, as one of the leading members of the national research and education network community and a participant in Internet2 and The Quilt, OARnet brings an understanding of larger trends and opportunities to the table.
"BroadbandOhio and InnovateOhio have done a remarkable job of uniting the various public and private entities who are dedicated to advancing broadband connectivity in the state of Ohio," Shah said. "This strong coalition of partners will help Ohio make a significant leap forward in its technological capabilities."
By Andrea Gibson