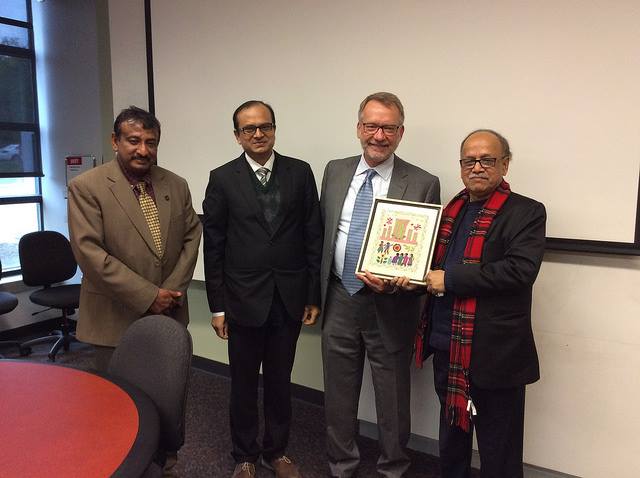 COLUMBUS, Ohio (Nov. 21, 2016)  – OARnet is well known for its connections, from POP to POP, main site to disaster recovery and everything in between. Running even deeper than the dark fiber that comprises the network are the connections forged and fostered among the people of OARnet. One of these connections is with the Bangladesh Research and Education Network (BdREN), with which OARnet has worked for several years. Interim Executive Director Paul Schopis recently accepted an honor from BdREN, recognizing the assistance that OARnet has provided in launching the country's first network for higher education.
The group presented Schopis with a framed, hand-embroidered canvas that depicts Shaheed Minar, a national monument in the country's capital that commemorates those who died fighting to preserve the country's mother language of Bengali. The colorful canvas is a simply stitched image, but the work that went into building it and the people that the canvas has touched symbolize something far from simple. The country's mother language not only lives on, but it can also now be shared worldwide through the connections BdREN can offer.
"When they presented it, it was very clear to me that this meant a lot to (them), and I was really touched," Schopis said. "People fought and died to save their language and their culture. Somebody acknowledges that something you've helped them with means that much to them, and it's moving, it's very rewarding. I thought that was pretty profound."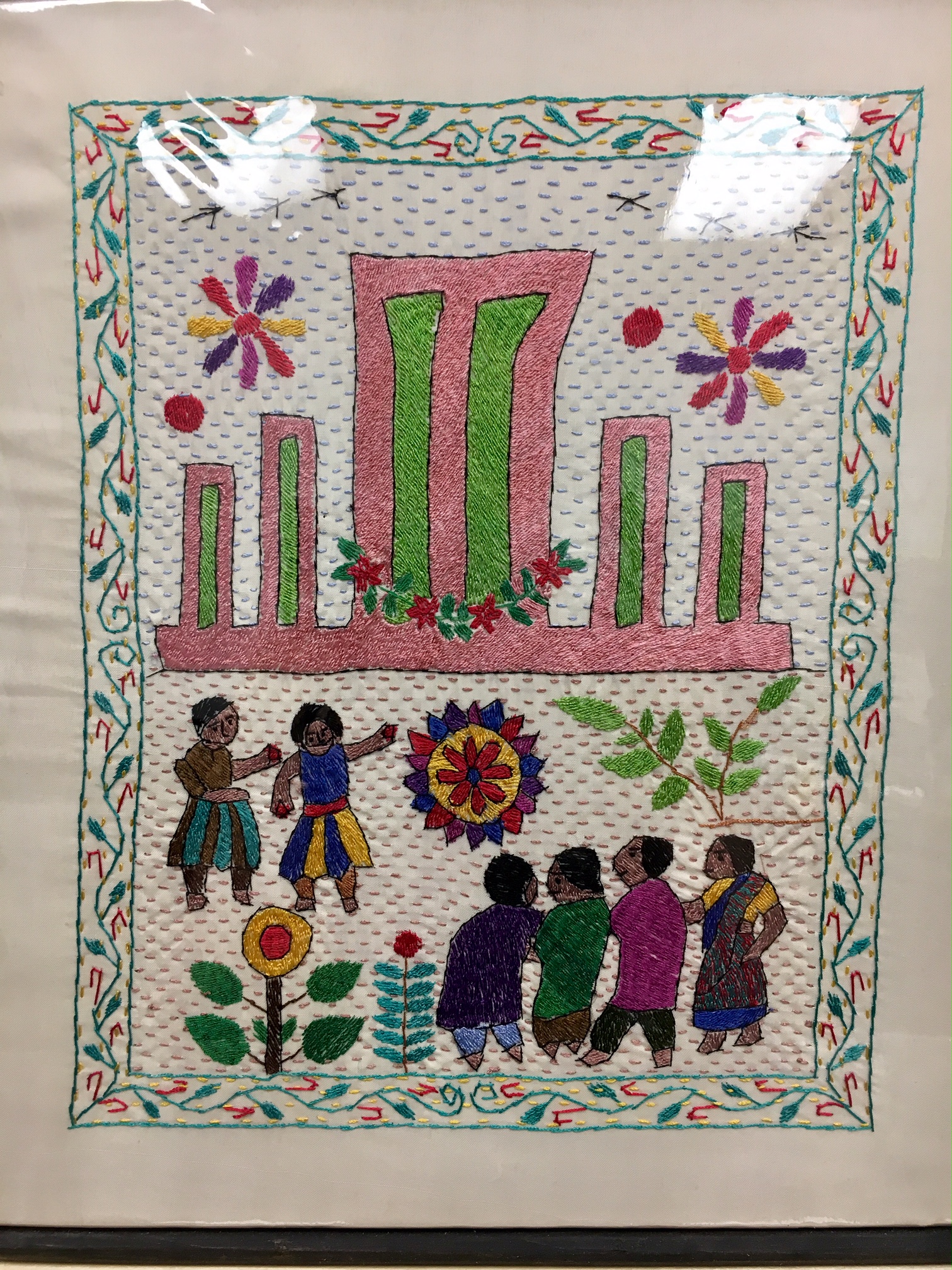 According to the BdREN website, "BdREN with its multi-gigabit capability aims to connect all universities, research institutions, libraries, laboratories, healthcare and agricultural institutions across the country and to support geographically dispersed academics, scientists and researchers with reliable access to high-end computing, simulation tools and datasets."
During the past few years, OARnet, along with Kent State University and Ireland's National Research and Education Network (HEAnet), has supported the conception, funding search and construction of BdREN. Bangladesh has the world's eighth-largest population (approximately 162 million), but is approximately the land size of Ohio. Because of this, Javed Khan, Ph.D., principal investigator for the BdREN project and professor at Kent State University, initially approached OARnet for assistance with the budget proposal. The request came shortly after OARnet finished its dark fiber expansion project.
"He asked us if we could just do some work and figure out what kind of money they should ask for," Schopis said. "When we started looking at the maps of where they wanted to build and the cities they wanted to build the network between, where the universities were, it turns out the distances were very similar to what we had just done in Ohio."
The World Bank granted $1.25 million to fund the project, and OARnet continued to assist with the project, providing guidance in network design and engineering. Over the past few years, BdREN staff members have traveled to Columbus to work shoulder-to-shoulder with OARnet engineers and administration to continue to improve and advance the network in Bangladesh.
Schopis said he has seen not only the BdREN staff members grow from new experiences provided through the partnership (such as witnessing their first snowfall), but also the OARnet staff.
"I think there is great, great value in us interacting with people that come from cultures that are very different from our own," Schopis said. "I think it's truly enriching."
###
The Ohio Academic Resources Network (OARnet), a member of the Ohio Department of Higher Education's Ohio Technology Consortium, provides technology solutions for Ohio's education, public broadcasting, health care and government communities. Since 1987, OARnet has identified and deployed shared services that reduce costs, deliver quality programs, increase productivity and improve customer service. Communities voluntarily participate in the OARnet consortium because they value these benefits and services. Ultimately, OARnet promotes community and economic development by expanding access to affordable technology. For more: www.oar.net. Follow OARnet on LinkedIn(link sends e-mail), Facebook (link sends e-mail)and Twitter(link sends e-mail).