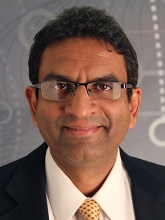 WASHINGTON, D.C., November 4, 2015 – Pankaj Shah, executive director of the Ohio Academic Resources Network (OARnet) and the Ohio Supercomputer Center (OSC), has been elected to an additional term for Internet2's Board of Trustees, according to a press release issued today. Internet2 is the operator of the most advanced infrastructure for research and higher education.
The Trustees, who are elected or appointed for three-year terms, serve as the governance of the organization providing strategic direction, leadership and fiscal oversight. David Leebron, President, Rice University, was elected chair of Internet2's 17-member Board of Trustees.
Michael McRobbie, President, Indiana University will serve as immediate past chair and Pat Gallagher, Chancellor, University of Pittsburgh, will serve as the Internet2 Board of Trustees vice chair.
"On behalf of the Internet2 community, we wish to thank Michael McRobbie for his exemplary support, and guidance in shaping Internet2's mission and vision during his three-year term as Board Chair," said Dave Lambert, Internet2, President and CEO.
The Internet2 Board of Trustees is comprised of university presidents, chief information officers, network and discipline researchers, and industry partners.
New Trustees elected to the Board include:
Rebecca Blank, Chancellor, University of Wisconsin Madison
Tracy Futhey, Vice President Information Technology, CIO, Duke University
Barbara Snyder, President, Case Western Reserve University 
Board Trustees elected for additional terms include:
John D. Evans, Chairman and CEO, Evans Telecommunication
Pankaj Shah, Executive Director, Ohio Supercomputer Center and Ohio Academic Resources Network
Returning Board Trustees include:
Michael Drake, President, The Ohio State University
Steve Fleagle, CIO, University of Iowa
Beth Garrett, President, Cornell University
James Hilton, Dean of Libraries and Vice Provost, Digital Educational Initiatives, University of Michigan
John Kolb, CIO, Rensselaer Polytechnic Institute
Dave Lambert, President and CEO, Internet2
Michael Norman, Director, San Diego Supercomputer Center, University of California, San Diego
Steve Relyea, Executive Vice Chancellor and CFO, California State University
John Sexton, President, New York University
---
About OARNet
The Ohio Academic Resources Network (OARnet), a member of the Ohio Department of Higher Education's Ohio Technology Consortium, provides technology solutions for Ohio's education, public broadcasting, health care and government communities. Since 1987, OARnet has identified and deployed shared services that reduce costs, deliver quality programs, increase productivity and improve customer service. Communities voluntarily participate in the OARnet consortium because they value these benefits and services. Ultimately, OARnet promotes community and economic development by expanding access to affordable technology. For more: www.oar.net. Follow OARnet on LinkedIn, Facebook and Twitter.
About OSC
The Ohio Supercomputer Center (OSC), a member of the Ohio Technology Consortium of the Ohio Board of Regents, addresses the rising computational demands of academic and industrial research communities by providing a robust shared infrastructure and proven expertise in advanced modeling, simulation and analysis. OSC empowers scientists with the vital resources essential to make extraordinary discoveries and innovations, partners with businesses and industry to leverage computational science as a competitive force in the global knowledge economy, and leads efforts to equip the workforce with the key technology skills required to secure 21st century jobs. For more, visit www.osc.edu. Follow OSC on LinkedIn, Facebook and Twitter.
About Internet2
Internet2® is a member-owned advanced technology community founded by the nation's leading higher education institutions in 1996. Internet2 provides a collaborative environment for U.S. research and education organizations to solve common technology challenges, and to develop innovative solutions in support of their educational, research and community service missions. Internet2 offices are located in Ann Arbor, MI; Denver, CO; Emeryville, CA; Washington, DC; and West Hartford, CT. For more information, visit www.internet2.edu or follow @Internet2 on Twitter.