COLUMBUS, Ohio (

Dec 9, 2022

) —
In 1987 OARnet was founded by the Ohio Department of Higher Education to provide Ohio researchers with their first online access to the high performance computing resources of the Ohio Supercomputer Center, established that same year. Over the last 35 years, OARnet has expanded to serve an extensive number of communities across Ohio, delivering more than 5,500 miles of fiber-optic broadband connectivity and on-demand configuration to match each client's diverse and evolving needs.
OARnet started with clients in the education field, connecting colleges across Ohio and later incorporating K-12 schools. As OARnet upgraded its fiber-optic backbone, state and local government, public broadcasting, health care and Next Generation 911 emergency call centers also began to make use of its highly reliable connections. Today OARnet serves its customers while partnering with last-mile service providers, supplying each client with custom configured connections that fit their specific needs.
OARnet has continued to upgrade its technology and services while adapting to the challenges at hand. Supplying increased bandwidth and critical connections, OARnet helped Ohio transition to life online during COVID-19. Today OARnet is focused on providing vulnerable clients with additional cybersecurity options, protecting critical data and connections.
"OARnet has developed throughout the past 35 years to become a crucial element within Ohio's public and private sector networking ecosystem. Bringing widespread connectivity and cutting-edge services to Ohio allows the state to become a leader in technology," said OARnet Executive Director Pankaj Shah.
"We had three racks of networking equipment in telecommunications facilities across the state – OARnet, K-12 and state government. Through development of mutual trust and joint network integrity, these communities now reside on a single statewide backbone, leveraging economies of scale while investing in a strong public-private partnership."
"OARnet is an important part of the State of Ohio's broadband infrastructure and access efforts," said Lt. Governor Jon Husted. "The team has done an excellent job of working closely with InnovateOhio and BroadbandOhio to determine how OARnet's expertise, resources and partnerships can help the state bridge the digital divide for Ohioans."
Development of Technology and Backbone
"Over the last 35 years, OARnet has built a transformational network for Ohio with nationally renowned services and resources. OARnet has provided Ohio's universities and colleges with an ultrahigh-bandwidth connection using both traditional Internet and Internet2. As a result, Ohio's higher education community has world class access to data centers, research facilities, peering and cloud service anywhere and everywhere."
John Ellinger
Chief Information Officer
Bowling Green State University
To meet the increasing demand for a statewide academic network, in 2004 OARnet moved to a fiber-optic backbone, known then as the Third Frontier Network. The dramatic increase in capacity associated with the new technology allowed OARnet to incorporate Ohio's PreK-12 education and establish connections with hospitals, federal labs and the national Internet2 network.
"Twenty years ago, Ohio led the nation in creating a high-speed fiber-optic backbone that could serve PreK-12 education as well as higher education," said Geoff Andrews, chief executive officer of the Management Council, which coordinates and supports the Ohio Education Computer Network that is composed of Ohio's Information Technology Centers. "The Management Council worked with OARnet and other state entities to connect the backbone to the centers that serve Ohio school districts, reducing information technology costs and improving service across the state."
Since its creation, this infrastructure has been continually updated to stay ahead of the evolution of technology, increasing in speed, bandwidth and redundancy. The backbone was last entirely upgraded to 100 Gigabits per second (Gbps) in 2012, bringing a level of connectivity unmatched at the time. With this upgrade, state and local governments in Ohio also began to connect to OARnet due to the unprecedented quality of service.
"Ohio's One Network, a long-time partnership with OARnet, has provided tremendous economies of scale for state agencies," said Katrina Flory, State of Ohio Chief Information Officer and head of the Office of Information Technology within the Ohio Department of Administrative Services. "OARnet's strong understanding of the broadband needs of both the state and the research and education communities, as well as assistance with the aggregate purchases of bandwidth and other important services, has helped advance many initiatives beneficial to Ohio."
OARnet is currently working to update the indefeasible rights of usage (IRU) contracts with the private sector vendors that own the fiber-optic wire. These contracts define the usage of the fiber-optic backbone, giving OARnet an opportunity to strategically plan by securing better paths and locations for equipment, leveraging its power to secure the best service for Ohio.
Along with this negotiation, OARnet is working to update its equipment to support the fiber-optic upgrade from 100 Gbps to 400 Gbps. OARnet will be one of the first to create a statewide network at this level of speed. Because of the size and cohesion of OARnet's network, it is one of the national leaders in technology adoption. This gives Ohio a significant head start compared to other states and can help attract researchers, students and businesses.
Planning and Client Service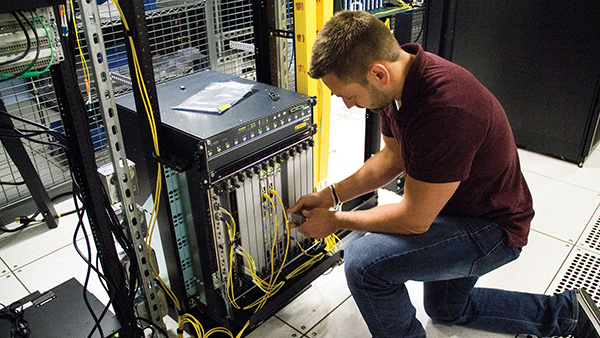 "Because we were able to facilitate moving to 100 Gbps and now 400 Gbps, it allows the state to advertise Ohio as a technology leader," said OARnet's Chief Relationship Officer Denis Walsh. "Why does it make sense for a company to come to Ohio? Because if they want to use our supercomputer or want high speed connectivity to the universities for collaboration, we've got the capability to do that here in Ohio."
OARnet provides value to Ohio by staying ahead of technology advancements and preparing for unexpected changes in client needs. Keeping research and education as its core mission, The organization overprovisions resources to ensure their availability.
"We use advanced planning to support not only the existing services we provide, but to prepare for the constant growth in technology," Walsh said. "We always have additional capacity built into our network to address unexpected needs."
This excess bandwidth is reinforced by redundancy within the network. Provisioning resources over multiple connections ensures that if one is lost, the clients will not experience a break in service, Walsh said.
To detect and respond to outages and emergencies, OARnet operates a 24x7x365 Network Operations Center (NOC). The NOC helps to identify, solve and de-escalate potential issues within the network to decrease the chances of clients experiencing any downtime.
A high level of customer service and attention to detail are integral components of building OARnet's community. Each client is paired with a dedicated representative to help them configure and maintain their connection.
"When you need help from OARnet it's not just calling a number and getting put in a queue," said Letha Butcher, client services manager for state and local government. "Clients never have to start at the very beginning when they've got a problem. That relationship is already built, and the knowledge of their infrastructure is already there."
OARnet's strategic aggregate purchasing also builds community while offering financial savings. By consolidating the needs of otherwise disconnected communities OARnet can deliver decreased prices not accessible to any single entity.
"Coordinating the purchasing power of 90+ colleges creates discounts far greater than what any school could achieve on their own," said Deputy Chief Relationship Officer David Ginn.
Through this aggregate purchasing, OARnet can provide savings to its customers. One such solution is VMware, a technology that provides a platform for cloud computing and virtualization, which clients can access at a reduced cost through OARnet.
"VMware is a way to partition resources. If you have a server that has lots of fast CPUs, disk and memory, one application is not always going to be using all those resources. VMware allows you to share those resources among multiple systems," said Mark Fullmer, chief technology officer at OARnet.
Responding to the Pandemic
"OARnet's robust statewide network, which provides highly reliable and affordable connectivity, has made a difference for cities and counties in Ohio. Local governments such as the city of Columbus benefit from OARnet's portfolio of technical resources and aggregate purchases of private sector services."
Sam Orth
Chief Technology Officer
City of Columbus
With a high level of strategic planning, OARnet positioned itself to respond to the coronavirus pandemic in 2020. Working tirelessly to adapt their resources, OARnet enabled entities within the state of Ohio to smoothly shift online.
"The chancellor wanted all the universities to be able to double their internet bandwidth to support remote teaching and learning. Because of the way we strategically plan, we were prepared with enough capacity to do that quickly," Walsh said.
Governor Mike DeWine and Chancellor Randy Gardner created the Last Mile Enhancement Program, funded by the Governor's Emergency Education Relief (GEER) program, which allowed OARnet to work with private-sector partners to increase broadband speeds by 1,000% at 40 colleges and universities. The program also doubled the internet subscriptions at all 87 connected member institutions for two years.
"When the world shut down, OARnet was prepared," Gardner said. "The research and education demands on the network meant that ample bandwidth was already in place as life moved online due to COVID-19. When Governor DeWine, BroadbandOhio, InnovateOhio and others came calling, OARnet was ready to assist."
Outside of higher education, OARnet also supported the dynamic needs of government, health care and public broadcasting communities. As internet access became increasingly important to connect communities responding to critical situations, OARnet acted decisively.
"The Department of Health played a crucial role during the pandemic. We supplied them with a circuit in days compared to what would have usually taken months," Butcher said.
Working with the public broadcasting community, OARnet played a part in ensuring that Governor Mike DeWine was able to smoothly deliver daily COVID-19 broadcasts.
"We had to stay very dynamic to respond to situations," Walsh said. "There was a time when Governor DeWine was not able to leave his home and we had to, on short notice, work with public broadcasting to enable him to give the broadcast from home."
Cybersecurity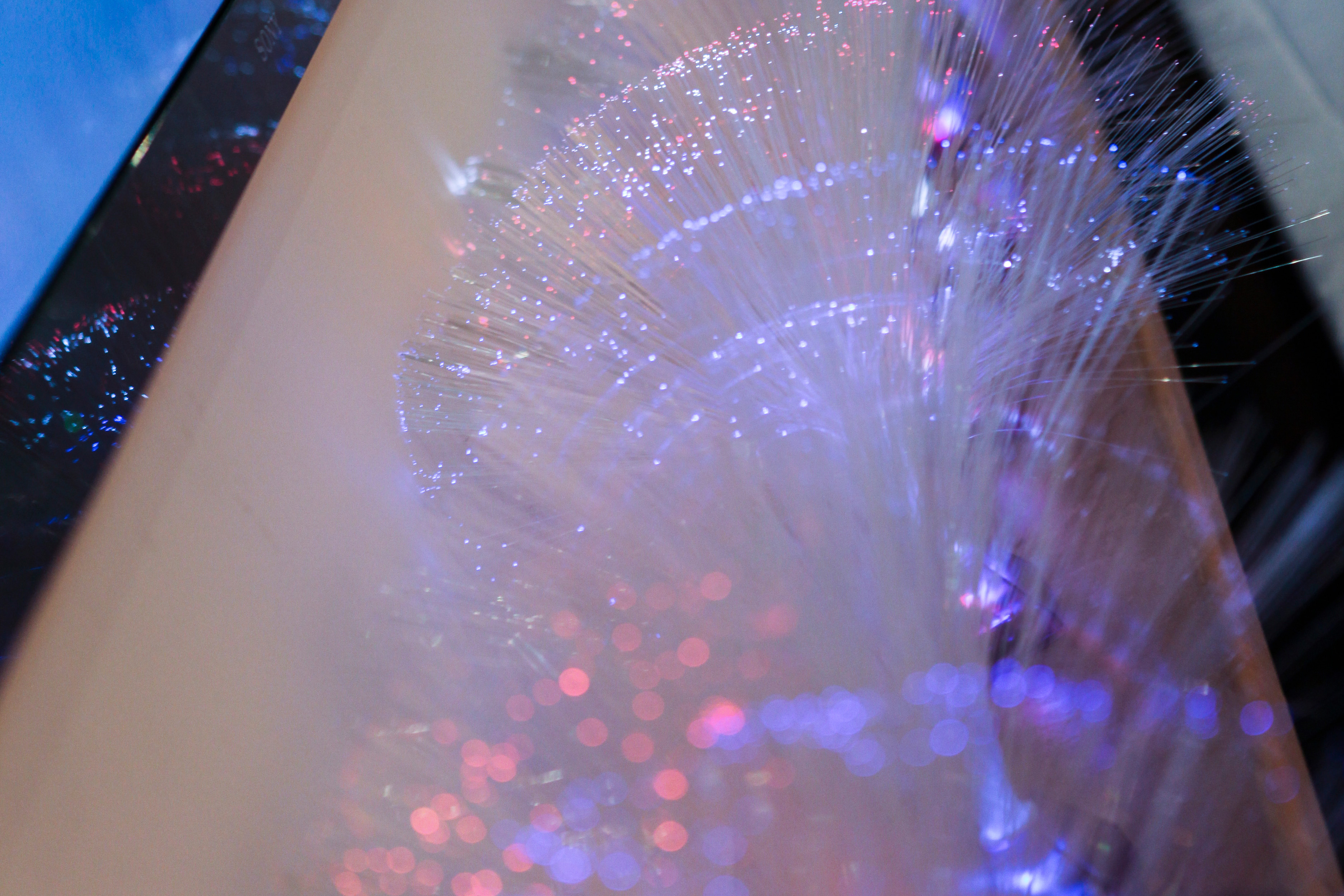 As the world continues to conduct more and more of life online, cybersecurity has become a primary focus for OARnet. To help lead the development of cybersecurity, OARnet recently hired Faaress Parham, former cyber operations officer for the United States Army, into the newly created role of cybersecurity architect. This position ensures the integrity of the network by monitoring security practices at the organization and evaluating relevant security services for OARnet and members.
This work is especially important for certain OARnet communities with heightened cybersecurity requirements due to infrastructure-related vulnerabilities and the potential for negative impact if targeted by a cyberattack.
"Cities and counties often administer critical infrastructure that manages water, electric, transportation and other critical systems for communities," Parham said. "Many of the systems were manufactured decades ago and do not support modern security technologies. Accordingly, special care must be taken to secure these systems as they are considered high-value targets, due to the impact it can have on health and safety."
To meet the needs of its communities, OARnet has partnered with Kirk Herath, cybersecurity strategic advisor to Ohio Governor Mike DeWine, to conduct a survey to identify opportunities for enhanced security services at reduced costs through aggregate purchasing.
"Based on the survey responses, there seems to be immense interest for cybersecurity solutions," Parham said. "We will work with our customers and stakeholders to develop a plan of action."
Moving Forward
The past 35 years have been defined by the growth of OARnet's collective community and a commitment to delivering the access and tools clients need to succeed. Though it stays on the bleeding edge of technology, OARnet remains true to its original goals: enhancing Ohio's connectivity, providing innovative solutions and expanding access. OARnet brings its communities together, increasing cohesion, fostering innovation and adding value to Ohio.
OARnet also plays a vital role in the landscape beyond Ohio. In addition to contributing to national organizations such as The Quilt and Internet2, OARnet plays leadership roles in partnerships like the newly formed Midwest Regional Collaboration to expand broadband access in unserved and underserved areas of the region alongside peer networks in Indiana, Kentucky, Michigan, Pennsylvania and West Virginia.
"The central line that threads throughout OARnet's history is growth," said Charles See, vice chancellor for strategic partnerships and education technology at the Ohio Department of Higher Education. "Not only in the number of people served, but growth in the relationships and communities built, services offered, and the value it delivers."
"OARnet's ability to develop strong partnerships with entities in the public and private sectors helps widen the organization's positive impact," Chancellor Gardner said. "Because of OARnet's vision and planning, a core strength developed in service of higher education now touches the lives of all citizens in Ohio."