COLUMBUS, Ohio (

Dec 10, 2012

) —
Columbus, OH (December 10, 2012) – During his 2012 State of the State address, Governor John R. Kasich announced that the State of Ohio, led by the Ohio Board of Regents and the Ohio Academic Resources Network (OARnet), would increase the speed of the state's research and education network from 10 to 100 Gigabits per second (Gbps) by the end of the year.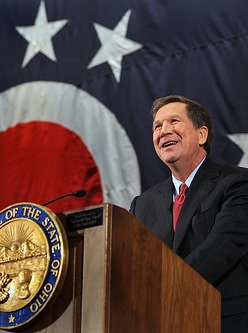 Gov. John Kasich
On Dec. 11, Gov. Kasich will light the network during an event scheduled from 11 to 11:30 a.m.  Ohio Board of Regents Chancellor Jim Petro, The Ohio State University President E. Gordon Gee, and other university and business representives from around Ohio also will be participating in the ceremony.
The public is invited to view the event via live streaming video, which will be available from the Ohio Channel at this link.
Ohio has invested approximately $13 million to harness innovative technology that will, in essence, "open the faucet" of Ohio's current broadband infrastructure from its current 10 Gbps capacity to 100 Gbps. This expansion leverages the 1,850-plus miles of fiber optic network operated by OARnet, a member of the Ohio Board of Regents Ohio Technology Consortium and a multidisciplinary research center under Ohio State's Office of Research.
As the first-ever, state-led initiative to leverage network speeds of 100 Gbps statewide, this technology will advance research and job growth across Ohio's medical research, higher education, manufacturing, engineering and technology networking corridors.
The 100 Gbps network connects Ohio's major metropolitan areas to northern and southern connection points of Internet2, a nationwide advanced networking consortium led by the research and education community, spanning leading U.S. and international institutions in the worlds of research, academia, industry and government.