COLUMBUS, Ohio (

Dec 4, 2019

) —
An estimated 8.3 million people tuned in to watch the fourth Democratic debate on the evening of Oct. 15, 2019. Twelve hopeful presidential candidates took to the stage at Otterbein University in Westerville, Ohio, a suburb of Columbus. Many viewers may be surprised to find out that Otterbein is a small, private, liberal-arts college because of the seamlessness of the broadcast. Behind the scenes, hundreds of hours of work, strategy and partnership with OARnet went into making such a production successful.
When Willie Neumann, contract chief information officer at Otterbein, joined the university in August 2019, he had no idea that in two short months he would be able to say that he successfully supported one of the most important national broadcasts of the year. "A couple weeks after I joined, somebody called me into an office and said, 'You need to sign this nondisclosure'," said Neumann. "After that, they said, 'Hey, guess what? In three weeks, we're having the Democratic debate on campus.'"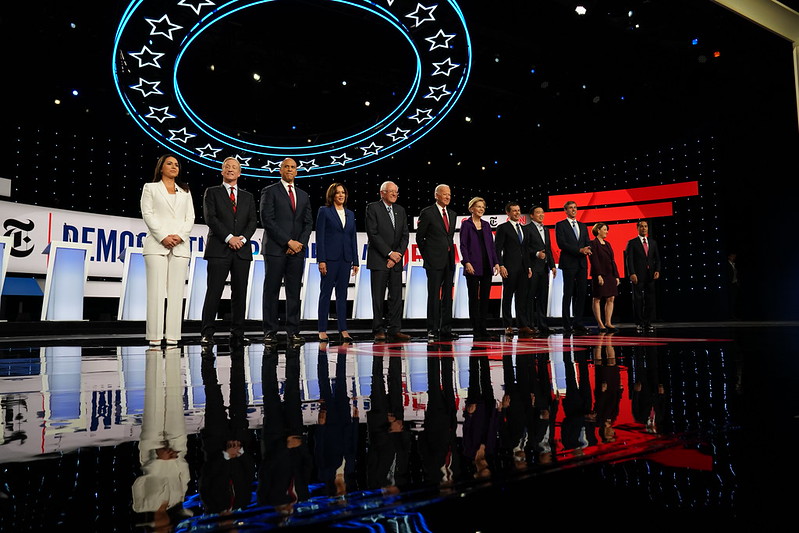 The debate was co-sponsored by CNN and The New York Times, and Neumann assumed that these entities would be handling the broadcast of the debate­—which turned out to not be the case. Feeling the pressure of the time constraint and huge undertaking at hand for the small college, he turned to OARnet for help. Turner Broadcasting Systems, Inc., which is owned by AT&T, told the university that they needed a high-speed connection to the campus so that the debate could be broadcast. Part of that connection was already in place, thanks to OARnet's pre-existing connection with Otterbein and the WeConnect Data Center in Westerville.
Neumann and his team began pulling fiber optic cables all throughout campus that then could be hooked up to connection points in different locations to form a large loop. This ensured that if one leg of cable was cut, there would still be another leg that could handle the broadcast. "OARnet then provided the bandwidth and went into the data center and configured the equipment so we could have the speed that we needed in various points around campus where the event was taking place," said Neumann.
The actual debate occurred in Otterbein's Rike Center, which ordinarily serves students as a gymnasium. However, it was not just the center that needed to be appropriately outfitted with reliable internet access and streaming capabilities. The Clements Recreation Center, behind the Rike Center, housed over 800 reporters during the debate. Stand-up tents from which networks would broadcast also popped up around campus. For example, the day before the debate, Anderson Cooper and Erin Burnett did their stand-up broadcasts from campus.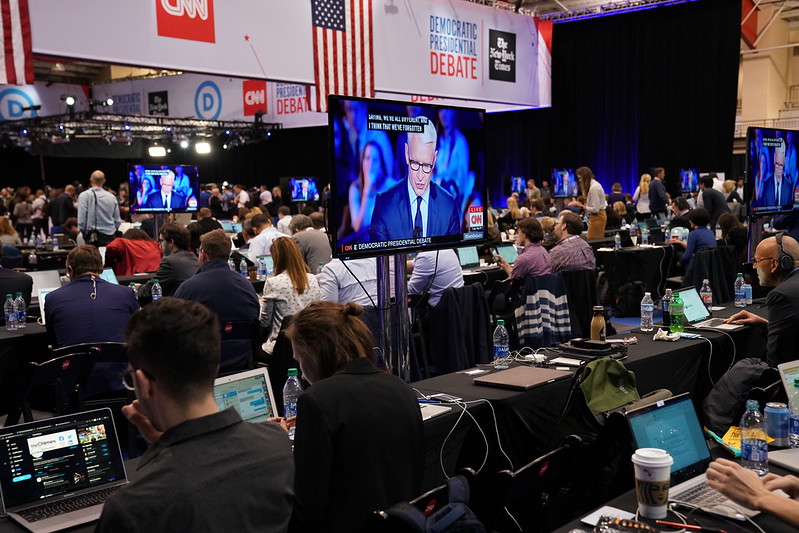 Additionally, each candidate had a full support staff accompany them. Neumann and his team called on Spectrum, their cable provider, to help set the staff up in a dormitory, outfitting the space with 15 monitors from CNN and an internet connection that would allow them to watch the debate. Bresco Broadband was also recruited to serve as a backup connection.
As the days before the debate began to dwindle and things began to fall into place, Neumann realized what a relief it was to be working with OARnet. "I've done this stuff for a long time and I've never had anybody turn it around the way that this was. This is not an exaggeration. I don't think we could have pulled it off. We didn't have the time. We didn't have the time to wait for a large carrier to be able to provision internet access for it. It had to happen now. And I think OARnet is the only group that could have done it for us."
The day of the debate, Neumann worked with Turner Broadcasting and CNN to check the broadcast quality and ensure there would be no interruption of service. OARnet was monitoring the network to ensure there was nothing that would disrupt the broadcast.
After working 16-hour days for multiple days in a row, Neumann finally sat down the night of the debate. "I'm sitting there at the event watching my phone every three seconds thinking, 'Oh, my gosh! Is this going to work or not?' And it did!"
While Neumann has years of technology experience under his belt, he said he had never pulled off something of this scale where all responsibility ultimately fell on his shoulders. "It's really hard to even express the amount of stress and anxiety that was associated with this. You know, I was confident it was going to work. We did everything that we needed to," said Neumann. "But when you're sitting there, and you're thinking, 'Oh gosh, if this goes offline, it's on me,' then yes, that's a big load."
While there were many key players ensuring the success of the broadcast, Neumann largely gives OARnet the credit for all of the help provided. "I know OARnet. I know the integrity of their networks. The fact that they turned this stuff around really quickly, the fact that they dealt with it as a one-off, knowing that we were going to need some exceptional turnaround on it…that's just unheard of." He also credits OARnet's Business Relations Manager Dana Rogers, Network Director Mark Fullmer and the network technicians with helping immensely in this undertaking.
More than anything, Neumann noted that the debate was an amazing opportunity for Otterbein to be noticed on a national scale. "I think it put Otterbein on the map as a destination because we've had Kasich's State of the State address here, and we've also had some Republicans on campus doing a debate a few years ago. I think it put us on the map as a good demographic blend, a good place for all people to come."
In addition to the fourth Democratic debate held earlier this year in Westerville, OARnet also has supported several other political forums in recent years:
In 2016, OARnet provided some backup services to support the Republican National Convention, held July 18–21, 2016, at Quicken Loans Arena in Cleveland, Ohio.
Online streaming of and social media activity surrounding the first inaugural address of President Barack Obama swamped many networks across the country in January 2009, but OARnet's performance barely slowed even as the network backbone experienced record traffic levels.
Contact Information:
Story by: Stephanie Campbell
Communications Specialist