COLUMBUS, Ohio (

Sep 26, 2023

) —
To support workforce development for the ever-increasing broadband and wireless technology industry, the 5G and Broadband Connectivity Center (5G-OH) at The Ohio State University has partnered with OARnet to create an internship program that provides real-world experience in broadband, networking and telecommunications technologies.
"OARnet understands the importance of educating the future workforce that will be essential for the evolution of foundational networking technologies," said Pankaj Shah, OARnet executive director. "This program demonstrates the ability to invest in the future workforce while still reaping the immediate benefits of talented and skilled student interns. We hope to lead by example, inspiring our peers across the country to contribute to the development of the broadband workforce of tomorrow."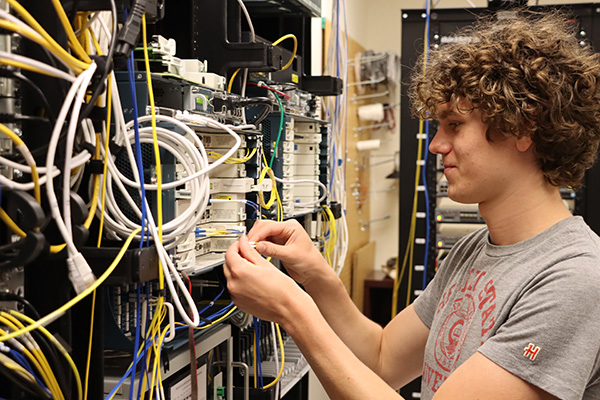 Network Install Student Assistant Caleb Schimming tests new equipment in OARnet's test lab before installing in the field.
Broadband has been one of the most impactful advancements of the 21st century and it continues to evolve rapidly every day, said Anish Arora, chair of Ohio State's Department of Computer Science and Engineering and director of the 5G and Broadband Connectivity Center. To deliver this technology to the people of Ohio and beyond requires a massive skilled workforce.
"Ohio has a limited workforce for 5G and broadband technology, especially in the regions where there is the most need for development," Arora said. "Because of this, we need to start thinking about workforce development in a holistic manner."
To address this need, 5G-OH is focused on the creation of curricula and programs that cater to prospective students, establish career pathways and corresponding training programs and foster statewide regional partnerships between education, industry providers, and state agencies.
Funded initially by the Governor's Emergency Education Relief (GEER) Fund at the direction of Ohio Department of Higher Education Chancellor Randy Gardner, 5G-OH set out to create a sustainable internship program in collaboration with a sector partner that could immerse students in real-life work experience within the industry.
"OARnet is a formidable provider of network services across the spectrum and was a very attractive partner for this internship," Arora said. "Their work with both education and industry provides opportunities for several different tiers of training. Collaborating with OARnet to step up our internship efforts was a natural decision."
Through this collaborative partnership, the internship was designed following the principles and objectives of both organizations – innovation in networking and connectivity through experimentation with new technologies and relevant training.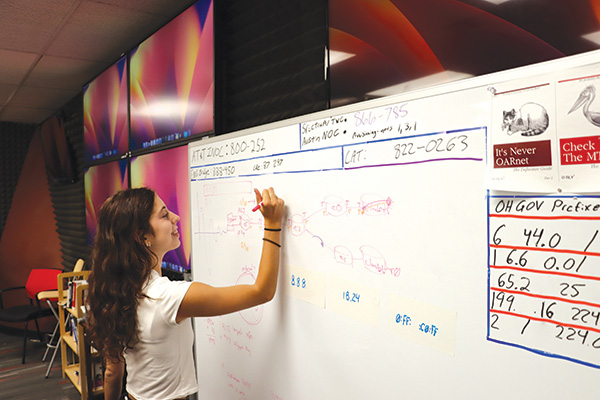 UX Software Developer Student Assistant Nola Valerian plans out network design.
"We are pleased to be involved in helping 5G-OH educate the next generation's broadband workforce," said Mark Fullmer, OARnet chief technology officer and co-designer of the 5G-OH OARnet Internship Program. "By seamlessly integrating interns into OARnet's daily operations, we not only offer them invaluable hands-on experience but also enhance our team's capabilities thanks to the support from GEER funding."
At the beginning of 2023 the program launched its pilot internship with seven Ohio State students who assumed various roles within OARnet's team. 5G-OH and OARnet offered interns a diverse range of responsibilities encompassing design, architecture, systems and security skills embedded within network operations.
Interns in the pilot program report that the experience was highly valuable, affording them the chance to assume genuine responsibilities and gain insights into the telecommunications industry through hands-on experiences that go beyond classroom offerings.
"We run into complex problems on every job, and it's allowed me to try and solve issues to the best of my ability," said Caleb Schimming, network install student assistant. "That alone contributes to my education, because in the classroom there are no issues. Out in the field, the problems stem from different sources that require dynamic and varied solutions."
Experiencing the complications of working with actual clients and hardware provides these students with opportunities to critically think, applying their knowledge gathered through traditional education to the problems at hand.
Asset Data Student Assistant Mitchell Kluchar handles equipment in OARnet's warehouse.
"My college experience has provided me with a strong foundation to effectively communicate ideas and solve problems in a visually appealing manner," said Nola Valerian, UX software developer student assistant. "This internship gave me the opportunity to apply what I have learned in college to create visually engaging and user-centric solutions to real-world problems."
In addition to hands-on experience, interns within the program are prepared to pursue valuable certifications that equip the students with more tools to set them apart in a competitive field.
The internship was designed not only to provide students already interested in the broadband industry with hands-on experiences in the field, but also to engage additional students who still may be exploring career pathways in technology, Arora said.
The long-term vision of this partnership is to establish a permanent internship program at OARnet. OARnet and 5G-OH will use the experiences of this year's program to further develop OARnet's capacity for interns, their roles and program management. OARnet hopes to grow this partnership and increase its impact on the future of broadband technology in Ohio.
"Experienced systems, network engineering and security talent remains in high demand," Fullmer said. "OARnet's program and others like it can assist in workforce development to help meet the increasing demand in these highly technical areas."
In their own words
"I've learned about the different equipment that is installed for networks and through working with them physically. I've learned how to install and remove fiber cables and hardware. I've learned the physical limitations with our optical equipment. Learning these skills in a related field helps broaden how I look at other tasks in my career."

Ryan Snyder
"At this internship I have acquired further knowledge on various cybersecurity concepts and their real-world applications. These will contribute to my academic growth by allowing me to expand my knowledge on these skills throughout the duration of the internship and beyond."

Kylee Cox
"I gained the knowledge of how networks are tied together, how our society is powered, and how electronics and software work at the fundamental level."

Caleb Schimming
"I worked in the warehouse and spent time in the Network Operations Center (NOC) allowing me to see multiple sides of the work that is done at OARnet. I have really learned how much work is put in to ensure Ohio has state-of-the-art broadband technology."

Mitchell Kluchar
"I've gained insights into how broadband technology serves as a critical foundation for educational institutions, research organizations and communities across Ohio. On a national scale, I've come to appreciate the broader impact of broadband connectivity in driving innovation and fostering economic growth."

Nola Valerian