COLUMBUS, Ohio (

Nov 1, 2021

) —
In an effort to make its services easier to access, the Ohio Bureau of Motor Vehicles (BMV) recently announced the launch of nine self-service kiosks at deputy registrar and retail locations around the state. These kiosks, currently in a pilot phase, will allow Ohio drivers to renew their vehicle registration and print out their new registration cards and validation stickers while minimizing wait times at the BMV. 
"InnovateOhio's goal is to change the culture of state government so that every service is designed with the customer in mind," said Lt. Governor Jon Husted, director of InnovateOhio. "This service offers a convenient way for Ohioans to quickly and easily renew their vehicle registration so they can continue on with the rest of their day."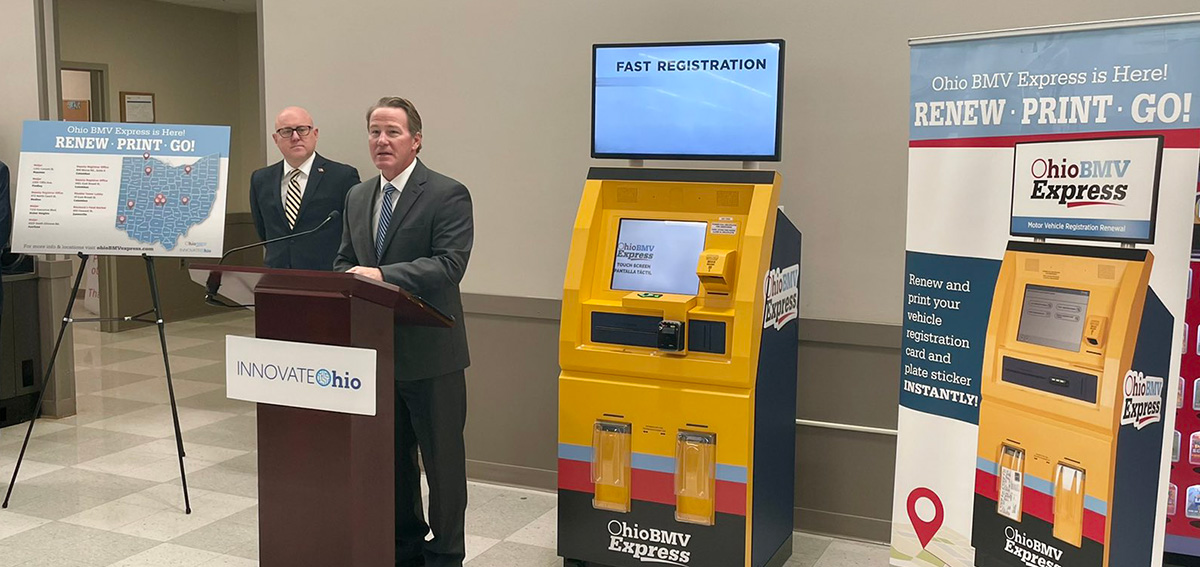 For the kiosks to be implemented successfully at the deputy registrar locations, the BMV needed a capable and secure network connection. Many deputy registrar locations lack strong cellular service, which meant that an outside network connection was required to support and protect the sensitive nature of the information that the kiosks would need. The BMV partnered with OARnet to resolve these technical issues.  
OARnet is Ohio's statewide high-speed fiber optic network connecting the higher education, state government, K-12 education, public broadcasting and health care communities to each other and the world. For this project, OARnet was able to upgrade the network equipment and connect the kiosks to the statewide network, ensuring a reliable and secure connection. 
"OARnet has been critical for us to get this running in our deputy registrar locations," said Keith Albert, chief IT project manager at the Ohio Department of Public Safety. "We have very sophisticated gear that's in those locations that allows the network to be segregated, so that we can have a connection that the citizens of Ohio can interact with without having any fear that it's going to bleed into our secure network that we have internally." 
"We are proud to support initiatives like the new BMV kiosks that expand individual access to critical services," said Denis Walsh, chief relationship officer for OARnet. "Ohio is a leader in implementing technology for the benefit of its citizens, and a secure, reliable network is the foundation for all the important developments already happening and still to come." 
Based on usage data gathered from this pilot program, the BMV plans to expand the system accordingly. 
"The BMV has focused on using technology to improve our customers' experience and provide options that meet the diverse needs of the people of Ohio," said BMV Registrar Charlie Norman. "Our initial priority in any innovation project is to make sure we're addressing data security as we pursue improved convenience. OARnet's work on the BMV Express kiosk project was crucial to achieving that goal."