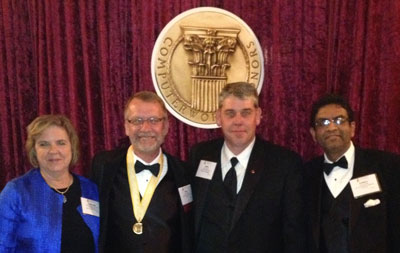 Columbus, Ohio/Washington, D.C. (June 4, 2013) – IDG's Computerworld Honors Program named the Ohio Academic Resources Network (OARnet) as a 2013 Laureate in the "Emerging Technology" category last night during its Gala Evening and Awards Ceremony at the Andrew W. Mellon Auditorium in Washington, D.C. The award program honors visionary applications of information technology promoting positive social, economic and educational change.
A member of the Ohio Board of Regents Ohio Technology Consortium and a multidisciplinary research center under The Ohio State University's Office of Research, OARnet provides networking and technology needs to Ohio colleges and universities, K-12 schools, public broadcasting stations, health care facilities and state and local governments.
A panel of 22 distinguished judges from diverse industries selected OARnet for its 100 Gig project; in eight months, the organization increased the capacity of its 1,850-mile, statewide fiber-optic backbone from 10 Gigabits per second (Gbps) to 100 Gbps, connecting 10 major cities and linking to Internet2's international 100 Gbps network. At 100 Gbps, 300,000 high-resolution X-rays can be transmitted in just one minute.
"To be named a Computerworld Laureate is a testament to Ohio's evolution into a high-tech environment," said Pankaj Shah, executive director of the Ohio Supercomputer Center and OARnet. "We're pleased that our peers have found our efforts worthy of this prestigious acknowledgement."
The State of Ohio invested $13.1 million to increase the capacity of the network to 100 Gbps, specifically to support next-generation business applications for attracting new employers and provide a platform for developing large-scale scientific research. Ohio Governor John R. Kasich championed the project, from announcing the state's commitment of funds during his 2012 State of the State address to celebrating its completion during a ceremonial lighting event on Dec. 11, 2012.
"Ohio's research broadband backbone already was the envy of many other states," said Caroline Whitacre, vice president for research, The Ohio State University. "Accelerating its capacity to 100 Gbps has made Ohio even more attractive to medical research, manufacturing, engineering and other technology sectors. This puts Ohio far ahead of the pack in university research collaboration and competition for federal grants."
"Computerworld is honored to recognize the outstanding accomplishments of OARnet and the 2013 class of Laureates. These projects demonstrate how IT can advance an organization's ability to compete, innovate, communicate and prosper," added John Amato, vice president and publisher of Computerworld. The Computerworld Honors Program has had the privilege of celebrating IT achievements for 25 years.
                                                                             XXX
Editor's Note: For more on Ohio's 100-Gigabit-per-second network, visit www.oar.net.
The Ohio Technology Consortium (OH-TECH) was established in 2011 to serve as the research and technology arm of the Ohio Board of Regents (OBR), offering innovative technology resources and services for Ohio higher education, K-12 schools and state and local government. OH-TECH leverages the strengths and increases operational efficiency of each member organization: the Ohio Academic Resources Network (OARnet), the Ohio Supercomputer Center (OSC) and eStudent Services. For more, visit www.oh-tech.org.