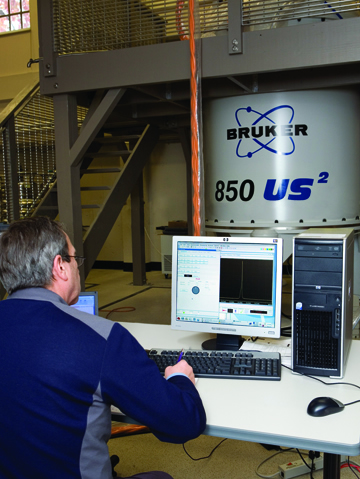 Columbus, Ohio  (November 14, 2008) - Ohio's academic and industrial researchers now can share some of the state's most valuable and expensive scientific instruments via the Internet, thanks to cyberinfrastructure tools developed by engineers and researchers at the Ohio Supercomputer Center.
OSC's remote instrumentation cyberinfrastructure provides a trio of services: Web portals, which empowers experiments and investigation by multiple remote users; networking, which enables control of the instrument's software from a desktop computer; and storage for data archiving and subsequent retrieval for analysis.
"Our goal is to foster research and training activities that can drastically shorten the innovation process in fields such as materials modeling and cancer research," said Prasad Calyam, Ph.D. a senior systems developer at OSC. "Such a service also improves user convenience, significantly reduces costs, and, ultimately, decreases duplication of instrumentation investments."
By creating Web portals that integrate with OSC's Remote Instrumentation Collaboration Environment (RICE) software, the Center can support multi-user session presence, user control management, live video feeds between Ohio labs, and collaboration tools such as Voice over IP and chat.
"The RICE software allows researchers to control the microscope in real time (remote operation) as they examine a sample, or it can restrict remote users to just viewing the sample's images and communicating with the operator (remote observation)," Calyam said. "Meanwhile, the Web portals link to the software and improve ease of remote access."
Recently, Miami University Professor Michael Kennedy, Ph.D., has partnered with OSC to "cyber-enable" the university's 850-megahertz nuclear magnetic resonance (NMR) spectrometer, the first of its kind in North America.
"While my Miami colleagues, students and I are fortunate to have this amazingly sophisticated instrument available for our vital research projects, it's also important to make this unique NMR resource available for remote instruction and operation to my more distant research and teaching associates," said Kennedy, an Ohio Eminent Scholar in structural biology.
Remote instrumentation sessions require significant network bandwidth. Fortunately, network issues at Ohio's universities are relatively minor because of their connections to OSCnet, the nation's leading statewide, fiber-optic network dedicated to education, research, and economic competitiveness.
The Ohio Board of Regents funded this research to gain a greater return on large investments in extraordinary instruments such as electron microscopes, nuclear magnetic resonance spectrometers, Raman spectrometers, and ion accelerators at Ohio universities. Electron microscopes, for example, can cost a university $450,000 to $4 million to purchase and require yet more funding for operation and maintenance.
"These scientific instruments represent a valuable collaborative asset in the state and can fuel the development of new products and technological innovation, as well as to expand the frontiers of knowledge," said Stanley C. Ahalt, executive director of the Ohio Supercomputer Center.
Calyam will be presenting a research paper on OSC's remote instrumentation capabilities at the IEEE e-Science 2008 conference this December in Indianapolis. This presentation is in addition to two demonstrations this fall: the unveiling of the prototype during the Fall 2008 Internet2 Member Meeting held in October in New Orleans, and a more advanced demonstration that will be part of OSC's exhibit during SC08, the premier international conference on high performance computing, networking and storage. This year SC08 is Nov. 17-21 in Austin, Texas.
More information about OSC's remote instrumentation projects and its participation in SC08 can be found at www.osc.edu/research/report/.
Celebrating more than 20 years of service, the Ohio Supercomputer Center (OSC) is a catalytic partner of Ohio universities and industries that provides a reliable high performance computing and high performance networking infrastructure for a diverse statewide/regional community including education, academic research, industry, and state government. Funded by the Ohio Board of Regents, OSC promotes and stimulates computational research and education in order to act as a key enabler for the state's aspirations in advanced technology, information systems, and advanced industries. For additional information, visit http://www.osc.edu.