Deputy Chief Relationship Officer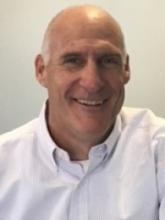 In his role of Deputy Chief Relationship Officer, David Ginn develops and manages both vendor and OARnet member relationships in support of broadband expansion throughout Ohio. He assembles and coordinates cross-functional teams of OARnet resources to ensure a project's success.
Prior to joining OARnet in January 2022, Ginn spent 25 years in leadership roles at AT&T, specifically managing AT&T's public sector team in Ohio. He worked with K-12, higher education, city/county government and the state of Ohio to develop technology solutions for these clients' specialized needs. Ginn developed and coordinated public-private partnerships involving technical, government and financial resources to collectively achieve common goals. His projects included delivering fiber-based connectivity to a 120-site urban school district and the delivery of 200 Gbps of wholesale internet access eventually distributed to multiple constituencies throughout Ohio.  
Prior to entering telecommunications in 1997, Ginn had a 12-year career in commercial banking/finance at Bank One/Chase Bank and brings those financial skills to his work at OARnet.
Ginn earned a bachelor's degree in economics from Butler University and a master's of business administration in finance from Xavier University.