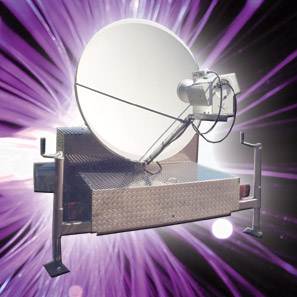 OARnet,
ITEC-Ohio
and the
OSU Office of the CIO
received a $65,000 grant in 2002 from the
American Distance Education Consortium (ADEC)
, to build and operate a Transportable Satellite Internet System (TSIS). This system comprises a small trailer that carries a 1.2 meter diameter dish receiver, plus all related electronics, and can be pulled by any vehicle with a trailer hitch. The TSIS provides 24 ports of 10/100 Ethernet that can connect to any nearby computers or LANs. The total speed of the satellite connection is 1.5 Mbps/sec downlink, and 512Kbps/sec uplink, at guaranteed rates.
ADEC is a national consortium of 60 state and land grant institutions providing economic and distance education programs and services via Internet satellite links. ADEC's Internet Satellite Project—ADECnet—is developing and deploying advanced Internet services and technologies over a satellite infrastructure in order to enhance research, instruction and learning at a diverse set of institutions such as tribal colleges, historically black colleges, and Hispanic serving institutions, which are geographically remote and far removed from terrestrial Internet connectivity.
The system includes a local wireless capability, which can penetrate the wall of a nearby building, and provide normal 802.11b connectivity inside the building. It also includes a generator and batteries so it is totally self-contained and can run for more than 24 hours unattended. The system is designed so that it can be set up and operated by one person.
This system will be used for distance learning and special events in rural areas, and at conferences where good, terrestrial Internet connectivity is not available. It is also a laboratory vehicle to evaluate and evolve the system design, as well as to measure its effectiveness in delivering distance education.
The staff most involved in this project include OARnet's Dr. Bob Dixon and Pankaj Shah, OSU's Alan Escovitz, Megan Crabb, and Gabe Moulton.
This material is based upon work supported by the National Science Foundation under Grant No. 0073240 and Technology Action Fund from the State of Ohio.
Any opinions, findings, and conclusions or recommendations expressed in this material are those of the author(s) and do not necessarily reflect the views of the National Science Foundation.
TSIS Slide Shows
Please click on the photos to view the slide shows.